Prevent Workplace Bullying and Harassment Video DVD Program - Bill 168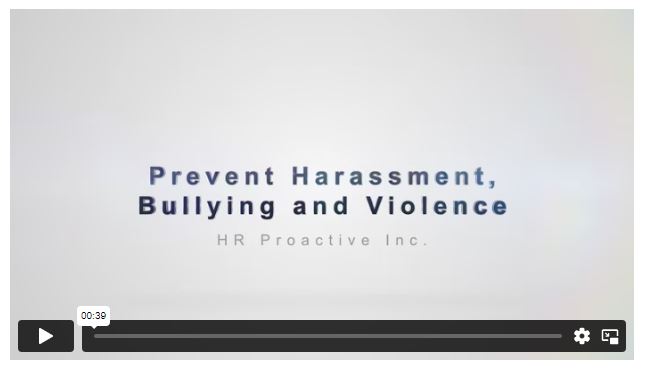 Prevent Workplace Bullying and Harassment Video DVD Program
Bill 168 20-Minute Video
Substantial Fully-Scripted Leader Guide
Reproducible Participant Guide (Word format)
Professional PowerPoint Presentation
Real-life Case Studies
Sample Policies and Risk Assessment Survey
Final Test and Test Answer Key
Glossary and Additional Resources
Violence and Harassment Training Certificate Template
Prevent Workplace Bullying and Harassment Video DVD Program Demo
Prevent Workplace Bullying and Harassment Video DVD Program Video you will receive:
20-minute video DVD
Substantial Leader Guide (Word format)
Reproducible Participant Guide (Word format)
Professional PowerPoint Presentation
Risk Assessment Survey adapted from Ministry of Labour
Well-crafted Violence & Harassment Policies (Word format)
Supplemental Guide including real-life cases that gave rise to Bill 168
Quiz and Quiz Answer Key
Certificate of Completion
Scheduling Sheet to track your learners
​
HR Proactive's DVD Video Training will enable employees to recognize behaviours that could be perceived as harassing, bullying and discriminatory, and includes an introduction to bystander intervention.
HR Proactive Inc. is here to assist you with your company's training needs.
Contact us today. We can help.